Ask for quotation
COOKIES and PERSONAL DATA - our web site may use some of cookies files. By using our website, you agree to let us use cookies, with accordance to your browser's settings. See also our pesonal data protection policy.
FLOW METER FLOWBOX
Ultrasonic gravitational flow meter for waters and waste waters
.......................
SUBJECT OF THE OFFER
The subject of our offer is an ultrasonic flow meter FLOWBOX intended for measuring momentary and total flow of the liquid in gravitational channels, with the use of measuring flume or measuring weir, basing on ISO standard or UNIKLAR-77 cataloque. Upon request, it's also possible to carry out pre-investment technical consulting, as well as subsequent installation, launching* and protocol-based delivery of flow meter for the use.
See related subject: electromagnetic flow meter intended for pressure conditions.
Download
FLOWBOX flow meter data sheet
FLOWBOX flow meter manual
declarations of conformity
FLOWBOX FLOW METER DESIGN
FLOWBOX flow meter in basic performance consists of:
M1600 Transmitter
Ultrasonic level sensor SPA
Measurement of the liquid flow is carried out based on the rising element:

FUNCTIONAL PRINCIPLE
Described measurement of the liquid flow, based on ISO standard or UNIKLAR-77 cataloque, with an ultrasonic flow meter FLOWBOX, is currently one of the most popular and proven methods for measuring liquid flow in the gravitational channels, which has been used on the market for many years now. Every year, several hundred of new locations are equipped with the flow meters FLOWBOX manufactured by us, which in great majority successfully fulfil assumed measuring functions. The basis of operation of the flow meter FLOWBOX is the measurement of ultrasonic beam passage time between the ultrasonic sensor and the surface of dammed up liquid by one of the standardized damming elements (measuring flume or measuring weir), on the basis of which the level of liquid's damming up is determined, and then – after using appropriate conversion formula – current flow rate of the liquid is determined.
The basic condition for the use of this method is to provide laminar flow of the liquid through damming element (e.g. measuring flume) and to ensure free unhindered outflow.
The ultrasonic method used for measurement has many advantages – among others, it enables the lack of direct contact of the measuring sensor with contaminated or aggressive medium.
Exemplary instalations of our FLOWBOX flow meters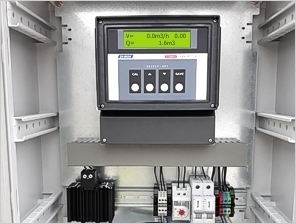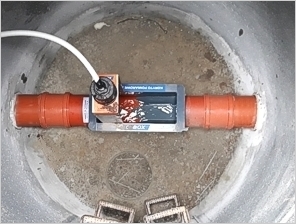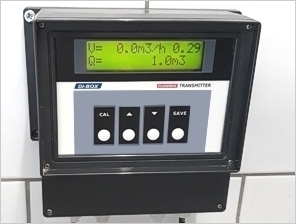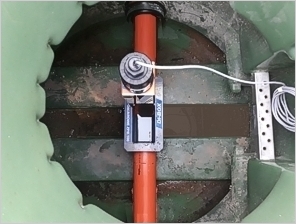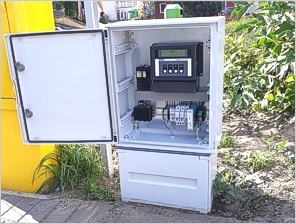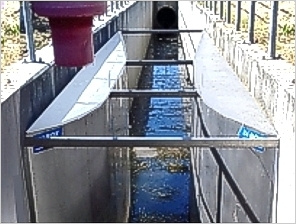 FLOWBOX FLOW METER FEATURES
Readout: momentary flow rate, total flow rate
Current outputs: 0-20mA, 4-20mA
Impulse output - adder
Digital outputs RS232C/485 - Modbus
Supply: ~230 V, 50 Hz or battery supply
Power input <10 VA
Ambient temperature: - transmitter: -10 do +55 C, sensor:-30 do +60 C
Housing protection rating: - transmitter: IP65, sensor: IP65 (na życzenie IP68)
Housing material: - tramsmitter: ABS, sensor: PVC
Weight: ~1,5kg
Narrow ultrasonic beam
Measuring range: 0-1,8m
Sensor accuracy: ± 0,25% of measuring range
Automatic temperature compensation
OPTIONAL ADDITIONS AND ACCESSORIES
Depending on a local needs or requirements the basic performance of FLOWBOX flow meter can be enriched with many optional addittions. Inter alia we recommend:
Waterproff veriosn (IP68) of ultrasonic sensor
Additional "backward" sensor
Operating hours counter and battery backup
Local data logger module
Remote data transmission module (based on GSM technology or radio transmission)
Protective IP66 thermostatic cabinet with accessories
Rack (stainless steel) or pedestal for protective cabinet
Additional qualitative measurement of a parameter of the liquid flowing through the flume or measuring weir (pH, oxygen, redox, conductivity)*
Battery version, possibility to support it with a solar**
Other